Message From the President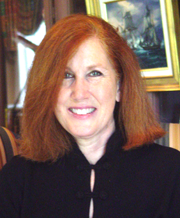 Welcome to the Houston Alumnae Association!

You are invited to a fun-filled and exciting year as we celebrate the 75th anniversary of our Pilgrimage Holiday Home Tour. Together we will honor cherished traditions and make new memories.

The heart of Kappa is our members and the Houston Alumnae Association is privileged to have a diverse membership from more than 120 Kappa chapters. I encourage you to enjoy our many opportunities to make new friends, reacquaint with cherished friends, learn something new, participate in our small interest group opportunities, and volunteer with the Pilgrimage Holiday Home Tour.

Please visit our calendar page for a list of activities and dates planned for the 2016-2017 year. Our association has a calendar is full of opportunities to meet and connect with Kappas whether it is at our general meetings or in any of our many interest groups.

Save the date for 75 Years of Shared Blessings, our Pilgrimage Holiday Home Tour! Our 75th anniversary year provides opportunities to help Kappa serve the community in our time honored signature event. I encourage you to support this beautiful event.

I look forward to a great year and seeing each of you in the coming months!