Kappa Kappa Gamma 2017 Pilgrimage Luncheon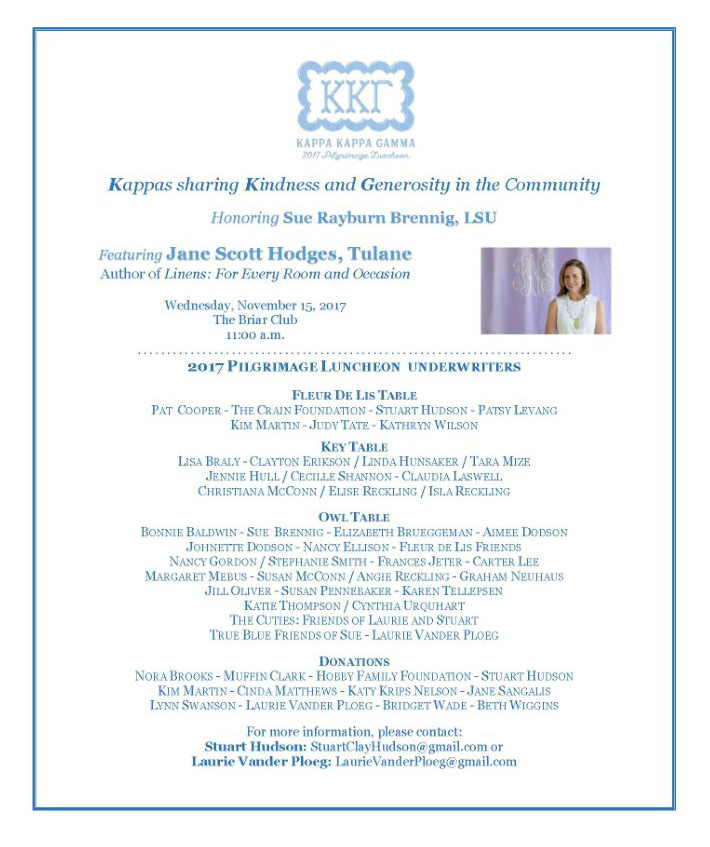 The 2017 Pilgrimage Luncheon will be held on Wednesday, November 15 in the Magnolia Ballroom at the Briar Club at 11:00 a.m.

Our theme is, "Kappas sharing Kindness and Generosity in the Community" and this year's honoree, Sue Rayburn Brennig, LSU, certainly exemplifies it well. Sue has served our Fraternity both locally and nationally in many, many ways.

We are excited to have a renowned Kappa, Jane Scott Hodges, Tulane, as our featured speaker. She is the owner and founder of Leontine Linens in New Orleans and a driving force behind the modern revival of couture linens for everyday enjoyment. Jane Scott is an engaging speaker and is the author of Linens: For Every Room and Occasion. You will have the opportunity to purchase a signed copy of her book at the luncheon.

The Pilgrimage Luncheon Chairs are Laurie VanderPloeg and Stuart Hudson. We are excited to host the Kappa Stitchers' silent auction, and you will not want to miss a chance to win a fabulous Nativity or one of the many unique items that will be offered this year.

Please make plans to join us as we support the KKG Charitable Foundation of Houston by combining the proceeds of this luncheon with the 2018 Holiday Pilgrimage to make a generous and meaningful impact on well-deserving recipients of the funds.
For more information, contact Stuart Hudson at StuartClayHudson@gmail.com or Lori VanderPloeg at LaurieVanderPloeg@gmail.com