Kappa Kappa Gamma Houston Alumnae Association
Welcome
Our Houston Alumnae Association has a membership of women ranging from 22 to 90+ years old from more than 120 different chapters throughout the United States and Canada. We promote longevity of Kappa values in all aspects of our lives by encouraging participation in our many different programs, which cater to all interests and annual philanthropic events. Membership in Kappa shouldn't end at graduation! Our vibrant Alumnae Association offers a wealth of opportunities to continue the sisterhood of Kappa Kappa Gamma.
---
---
2022-2023 Dues Update
Dear Kappa Sisters,
In the past, the alumnae association has included your dues to Kappa Kappa Gamma Headquarters, as well as your local association dues. This year, in an effort to streamline our dues collection — and because some of our members have inadvertently paid their Headquarters dues separately and, therefore, paid that fee twice — we will only be collecting dues for our alumnae association. In addition, our association dues have not been raised in many years, and as we are all painfully aware of the price increase in everything in our lives, the Houston association is also being impacted by rising costs.
To defer some of our additional costs, we will be offering a hard copy of our directory at an additional fee of $15, but as a reminder, our directory can be accessed online if you choose not to pay for the optional hard copy of the directory.
Join or renew your membership today. Online: Log into www.houstonkappas.org and click on the "Join" tab. From the drop down menu, choose "Pay Member Dues," and pay by credit card. By mail: Download this form and mail it with a check. As a member, you will get a complete list of activities, meetings, and interest groups in the 2022–2023 membership directory, which includes the online directory.
To pay your Headquarters dues, please log onto www.kappakappagamma.org and click on the link "pay dues," or mail a check directly to Kappa Kappa Gamma, 6640 Riverside Drive, Suite 200, Dublin, Ohio 43017.
Vickie McCarthy
President 2022-2023
---
Message From the President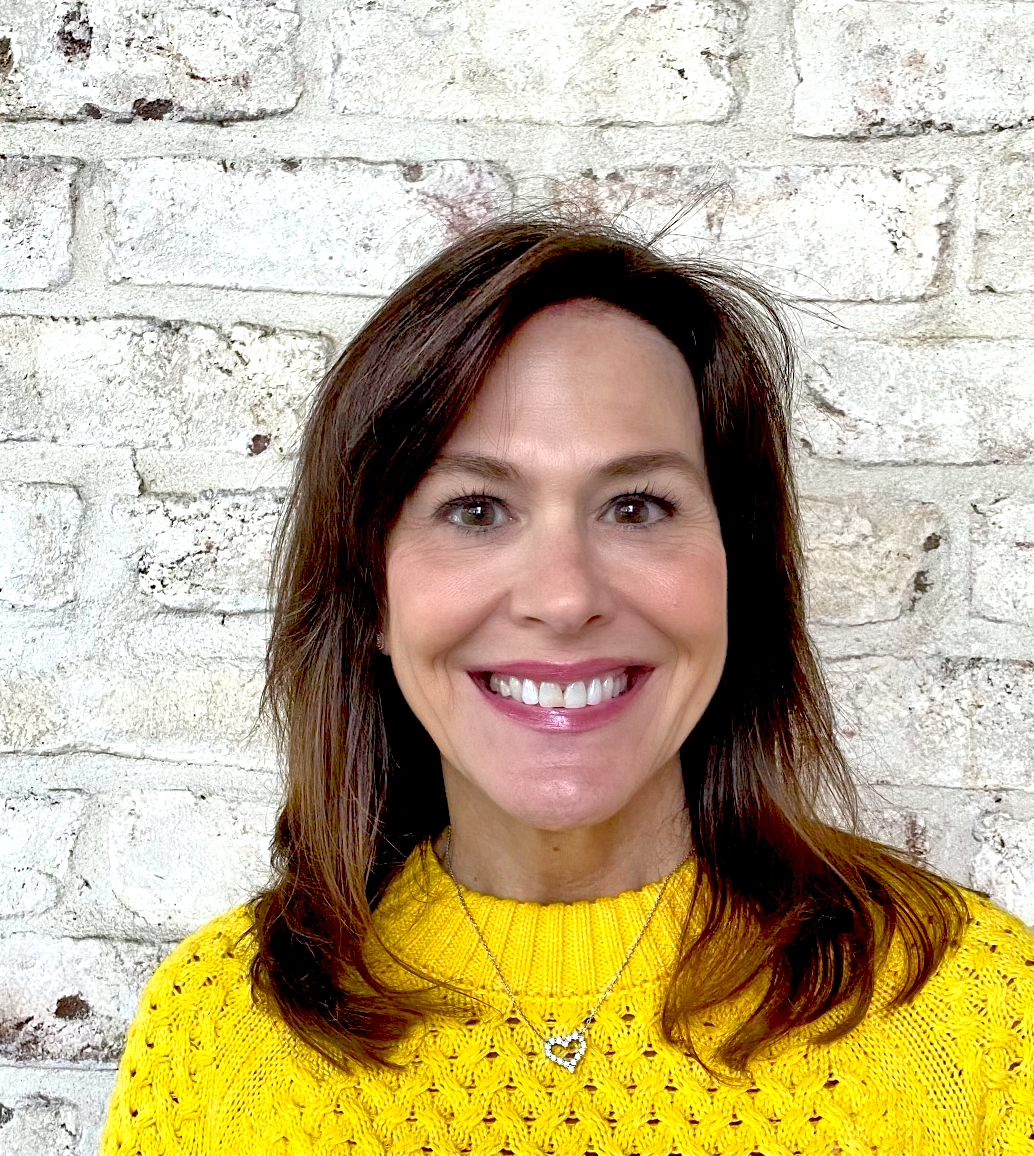 Welcome to the Houston Alumnae Association! I am honored to serve as your president this year and I am looking forward to seeing all of you at our exciting events we have planned.
If you need assistance getting information into our Keyblast updates, please email Mimi Gammill at Mgammill@me.com.
If you have Kappa photos from our events you would like to share, please email VP Communications Freyja Lauritsen at Freyja.lauritsen@me.com.
If you would like to tell us news about a Kappa—such as a wedding or birth, or just give another Kappa encouragement—please email Nancy Wilson at nlwilson@sbcglobal.net.
If you need to inform our Kappa members of a Kappa death, please email Corresponding Secretary Claudia Laswell at cnl930@aol.com.
Please do not hesitate to reach out to me with any questions or concerns.
Loyally,
Vickie McCarthy
Delta Iota, LSU
vbmccarthy@sbcglobal.net
---
Kappa Kappa Gamma Charitable Foundation of Houston
The Foundation would like to announce that the Holiday Pilgrimage has been rescheduled to December 2022. Our fabulous chairs, Jeannie Chandler and Julie Comiskey, are excited and looking forward to organizing this special event!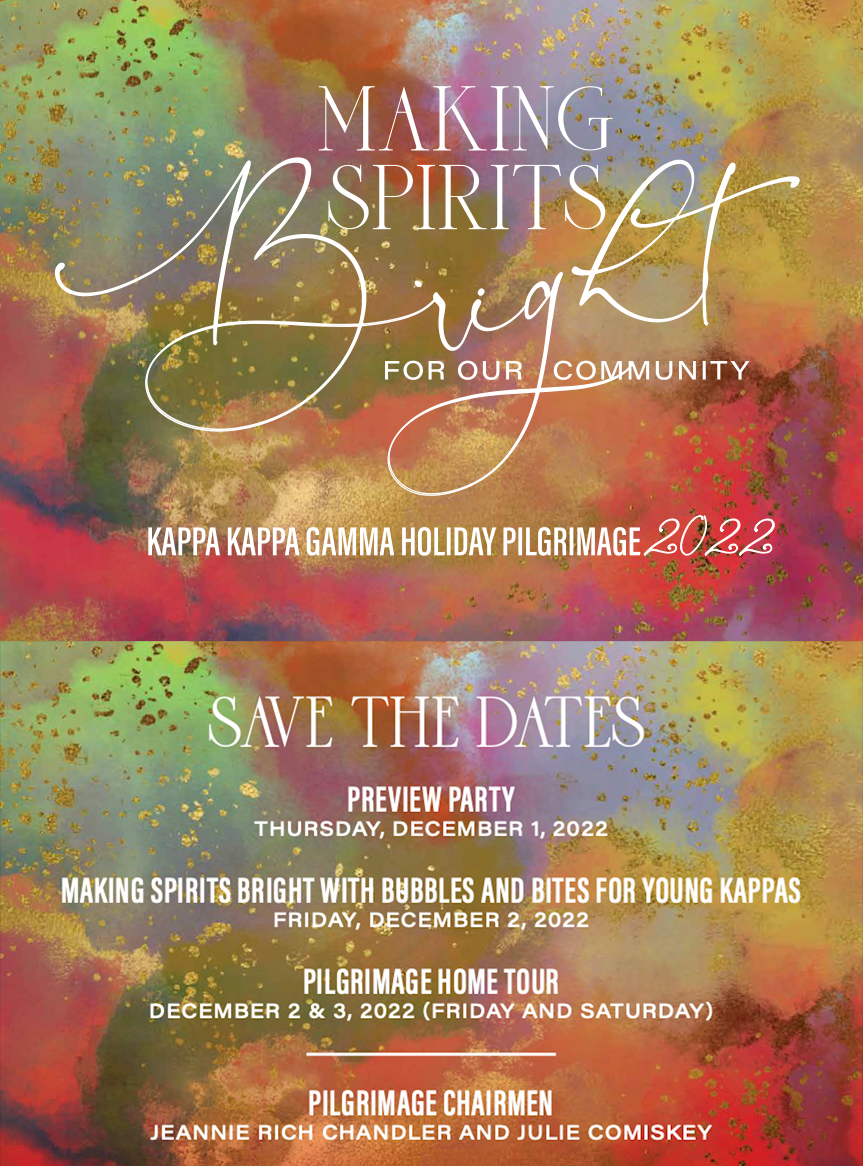 Click here if you would like to join our team or have questions.
Funds for charitable grants are raised during the Pilgrimage (held in even-numbered years), the Luncheon (held in odd-numbered years), and the philanthropic gifts of our individual members. To date, Kappa has contributed more than $4.3 million to the Houston community. Thank you for your continued support!
---
KAPPA KAPPA GAMMA GRANT APPLICATION GOES LIVE!
The Kappa Kappa Gamma Charitable Foundation of Houston Philanthropy Committee is now accepting applications for grants that will be funded by our fundraising efforts.
Applications will be accepted May 1, 2022 until 5:00 p.m. Monday, August 15, 2022.
Please click here to review and/or submit an application. The grant summary, application, instructions and guidelines are included on the link. The Philanthropy Committee's recommendations will be made to the Foundation by March 2023 and the funds will be distributed in late spring 2023.
PLEASE PASS ALONG TO ALL ELIGIBLE CHARITABLE ORGANIZATIONS!
Philanthropy Chairman:
Mimi Marix
281-793-9946
kappaphilanthropychair@gmail.com


---
KKG Foundation Rose McGill Grants
We hope that everyone is beginning to make repairs and return to everyday life. If you or one of our Kappa sisters has experienced hardship or property damage due to the recent winter storm, Kappa Kappa Gamma Foundation provides financial assistance to members during difficult times through Rose McGill Grants.
To apply for a grant, members can reach out in one of three ways:
Go to the National Website
Call Headquarters at 866-KKG-1870 (866-554-1870)
Contact Wendy Dalton at mwdalton4@gmail.com
We are more than happy to assist with the process. Please don't hesitate to reach out for more information or assistance.

---
Writing a Reference
Click here for more information on submitting Kappa Kappa Gamma references for Potential New Members (PNMs) for spring recruitment.
---
Kappa Events
Get the latest information on all our upcoming events on our calendar. General meetings, board meetings, interest-group events, committee meetings, and foundation happenings--it's all there for you!
Check out photos from all of our recent events in our galleries! Members can log in to view photos from such events as the Holiday Luncheon, Holiday Tea, and Kite and Key, as well as general meetings, Night Owls get-togethers, Play Dates in the Park, philanthropy events with the Epsilon Rho chapter, and much more.
Alumnae Membership
If you are new to Houston and would like to learn more about joining our Alumnae Association, please visit our Join page.
If you are already a member of the Houston Alumnae Association and would like to pay your alumnae membership dues for this year, you may do so here by visiting our "Pay Member Dues" page.
Members who have not paid their 2021–2022 dues will only have access to the website until July 15. After July 15, only valid dues paying members will have access to the member side of the website.
Member login
Houston Kappas, please log in above to access the members-only sections of the site. Your username is the first letter of your first name, followed by your last name, and your password is your Kappa member number. This number appears above your name on the label of The Key magazine, or you may call headquarters at 866-554-1870 to request it. Your member number should be entered with a hyphen and no preceding zeros. Any trouble? Email us.